Consortium Meeting in Manaus
Posted by on August 15 2014 13:16:50
---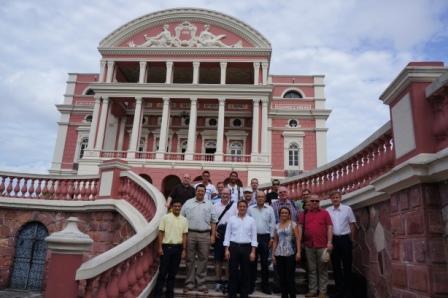 The IMPReSS partners met up in Manaus, Brazil, for a two-day project meeting. The purpose of the meeting was to discuss the projectís status, align the work being done in the different work packages and plan future work.

The meeting was kicked off with a visit to one of the project pilot sites, Teatro Amazonas (Amazon Theatre). The visit allowed partners to get a better idea of the site in general and of the specific challenges and possibilities related to the design, development, implementation and validation of the IMPReSS pilot applications and platform.


---
Extended News
---
The initial architecture was presented at the meeting and various technological issues were discussed and resolved amongst developers. The consortium decided that the Amazon Theatre pilot demo should be extended with different ways to engage the visitor as stronger engagement is likely to promote a stronger public awareness on energy usage and CO2 footprint. How to do so will be planned in more detail in WP8 in cooperation with WP2.

More information about the IMPReSS pilots is available here.